For many foodies around the world, their life's goal is to discover the best restaurants in Italy so that they may one day claim to have "been to the mountaintop," so to speak. Undoubtedly, one of the main reasons that so many people flock to Italy every year is to indulge in the rich food culture. It's pretty much on everyone's travel destination bucket list. 
Italian restaurants are found in every corner of the globe—yet what passes for "Italian food" in other countries is often a vague approximation of the genuine regional dishes of Italy. Still, it would not be inaccurate to say that Italian food is the world's most popular type of cuisine.  
Consequently, when folks finally arrive in Italy for their long-awaited vacation, one of the first things on their itinerary is finding a quaint little trattoria and sitting down for a long, delicious, authentic meal.  
Too often, unfortunately, they're disappointed. At least part of this might be blamed on the tourists' misplaced expectations. After all, Vinny's Pizza and Pasta Palace back in South Philly serves up a pretty mean shrimp parmesan—and so what's this trippa alla romana sitting on my plate? 
Authentic? Yes. But it is not so easy to "sell" to the international masses.
However, there are also other, more subtle forces at work here. For some reason, visitors frequently succumb to the irresistible pull of "tourist traps," despite their best efforts to avoid them.  
How to Avoid Tourist Trap Restaurants in Italy
Why do we fall for this? Well, for one thing, the restaurants that are the best at advertising or finding their way into the popular guidebooks are not always the ones that offer the best or most authentic food. Indeed, quite often the opposite is true. 
I don't mean to imply that a trattoria with a slick website should be considered inauthentic for that reason alone, but perhaps it might raise your suspicions if they appear to be putting more effort into their marketing than their menu.
Up until recently, I still fell into this trap once in a while when visiting an unfamiliar city. Nothing is more aggravating than having a bad meal in Italy. It's like going to the Caribbean for a beach vacation and it ends up raining all week.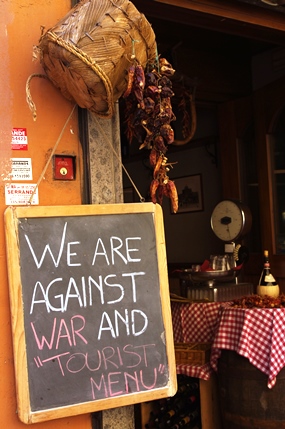 You Guides to the Best Restaurants in 4 Italian Cities
Fortunately, I've found a good solution to this frustrating problem. There are a number of qualified Italy-based foodies out there that have done all the hard work for us and are willing to share their knowledge through various outlets such as smartphone apps, blogs, and cookbooks. 
What's more, these folks aren't afraid to get their own hands "in the dough," so to speak, by offering cooking classes, food tours, and wine tastings to eager travelers throughout Italy. They are the true experts in all Italian food related pursuits, from shopping at the markets, to preparing the meals, and then finally to writing about it all in a fun and engaging way.
Not only do these people have first-hand knowledge, but they also have the benefit of feedback from the travelers that they've worked with: the students in their classes, the clients taking their food tours, and the commenters on their blogs.  
And these writers are all people with a foot in two cultures, having been born abroad but living in Italy, or born in Italy and having lived abroad. Therefore, they are all bilingual, both linguistically and culturally, which has helped them to understand what types of food experiences "translate" best to their clients and readers.
The Best Restaurants in Italy
In addition to food quality, there are other practical considerations when choosing an Italian restaurant. Of course, price is sometimes a factor. And so is location. 
Some of my favorite restaurants in Rome are well outside the historical center. Great food at reasonable prices. But it would be impractical to suggest these to a person who is in town on vacation for three or four days. It often requires a train and two buses to reach some of these locales, and in the end, the average tourist might be put off by the location or the (lack of) ambiance in the humble osterie frequented by locals.  
Another factor often lost on first-time visitors to Italy is the incredible diversity in regional cuisines. As I mentioned before, the term "Italian food" used in foreign countries really doesn't have much meaning within Italia.  
So if you want to sample authentic cuisine, then it's best to stick to the local dishes when dining out, whether you're at an osteria in Rome or a barcaro in Venice. For this reason, I have asked these writers to share with me their choices from specific regions in Italy.  
Certainly, they are all well-versed in the many regional cuisines throughout the country. But I wanted to know about the exact places in their own respective areas that they personally return to again and again.
OK, without further ado… here is the definitive guide for the best restaurants in Italy:
Get the FREE Guide to the Best Restaurants in Italy!
Top food bloggers living in Italy share their suggestions for the best places to enjoy authentic cuisine while vacationing in Italy. 
Types of Dining Options in Italy
When it comes to dining in Italy, there are a few different options to choose from. The most common type of restaurant is the trattoria, which is a casual eatery that serves traditional Italian dishes.
Then there is the osteria, which is slightly less formal, and might feature shared tables and wine from a carafe.
Ristorantes are the most formal type of Italian eatery, and these typically serve dishes from all over Italy, not just one region. You'll pay more, and have white linen table cloths and multiple waiters serving you, rather than "mamma e papa'."
Lastly, there are also pizzerias, which, as the name suggests, specialize in pizza.
Italy is a renowned culinary destination, and it offers a wide variety of dining options to suit all tastes. From traditional trattorias and pizzerias to more modern Michelin-starred restaurants, there is something for everyone in Italy.
A Few Tips for Dining in Italy
If you're planning a trip to Italy, you're probably looking forward to trying some delicious Italian food. But if you've never been to Italy before, you may not know what to expect when it comes to dining out. Here are a few tips to help you make the most of your culinary experience in Italy… without embarrassing yourself:
Make sure to make reservations in advance, especially if you're planning to eat at a popular restaurant. Normally, each table in a restaurant has only ONE reservation per night. Italians expect you to linger, not rush through your meal.
When ordering wine, be aware that many casual osterie will serve it by the glass or carafe, rather than by the bottle. Don't worry, it will probably go perfectly with your first course. 
It is NOT acceptable to ask for a doggy bag! Portions in Italy are intentionally smaller for this reason. Whenever possible, food should be eaten freshly cooked, not reheated. 
Don't be afraid to try new things, (even if you can't pronounce it). You may be surprised by what you discover!
In Italy, it is considered rude to begin eating before everyone at the table has been served. It is also considered impolite to talk with your mouth full or to make noises while eating. When dining out, it is customary to leave a small tip (5-10%) for the waitstaff.
And when ordering wine at a more formal ristorante, it is generally expected that you will order a bottle for the table to share. At a trattoria or osteria, you can all order by the glass. 
Italy is world-renowned for its delicious food and wine. And while there are many ways to enjoy a good meal in Italy, there are also a few etiquette rules that you should be aware of before dining in this beautiful country. Try to follow them, and you'll likely enjoy your meal even more.
If you want to know more about dining etiquette in Italy, please read: 34 Italian Food Rules. 
Best Restaurants in Rome Lazio
One of the challenges to finding a good restaurant in Rome is that there are just too many options.  This is especially true within the historical center where they are all fighting ferociously for every tourist's Euro.  
Walking around Piazza Navona or Campo de' Fiori, you'll see an indiscrete number of establishments offering tourist menus in five or six languages.  Red and white checkered table clothes abound, framed still shots from The Godfather on the walls, and Frank Sinatra bellowing from the stereo.  Yet even among this circus, there are hidden gems.
OK, so let's say that you successfully avoid all the tourist traps and zero-in on a few authentic Roman restaurants.  Then there's the cuisine itself to consider, which isn't always immediately appealing to the uninitiated straniero (foreigner). 
Second courses often feature various frattaglie (innards) and scarti (scraps) that, while delicious when prepared properly, don't necessarily translate well on the menu.  It's almost overwhelming enough to just give up and look for a hamburger. But don't worry the first courses, the so-called "pasta alla romana," are some of the most iconic pasta dishes in all of Italy.
Best Restaurants in Florence Tuscany
Perhaps Tuscany, even more so than the rest of Italy, brings to mind the hearty bounty of rustic food paired with heavenly wines. Rolling hills with a disappearing line of cyprus trees… you've read the book, right?
What's more, even the word "Tuscan" has found a freakish sort of marketing power outside of Italy for everything from furniture design to gated golf communities to lamentable restaurant chains.
Consequently, it might be that Tuscany has been the regional cuisine most misrepresented abroad. What exactly is Chicken Florentine or Tuscan Salad, anyway? Well, for sure they don't exist… at least not in their "namesake" places of origin. 
Real Tuscan food is simple, if a bit heavy, and what is called peasant food, or "la cucina povera." The poor folks learned to make the best out of the meager ingredients available to them. That's why it's so silly that fancy, high-priced "Tuscan" restaurants have sprung up in the U.S. and U.K., becoming the exact opposite of traditional Tuscan cuisine.
Best Restaurants in Venice Veneto
Venice has gotten some bad press when it comes to restaurants and food in general. This is unfortunate because, like all regions of Italy, the food traditions are an important element of the overall history and culture of this iconic city.  
Not surprisingly, Venice—the Queen of the Adriatic—has a particular affinity for seafood ingredients.  But its cuisine is certainly not limited to fish. Fegato alla veneziana (liver) is one of the most famous dishes from this region, and fresh vegetables are also found in abundance.
So why is it so hard to find a good place to eat in Venice? Part of the issue might be caused by the surge of tourists every day, many of whom are only in town for a few hours while their cruise ship is docked nearby. Consequently, they only have a short time for lunch and very little guidance in helping them find authentic Venetian food.  
Perhaps more than anywhere else in Italy, it helps to have some insider knowledge in Venice when it comes to finding the best food treasures and traditional Venetian cuisine.  
Get the FREE Guide to the Best Restaurants in Italy!
Top food bloggers living in Italy share their suggestions for the best places to enjoy authentic cuisine while vacationing in Italy. 
Best Restaurants on the Amalfi Coast
The Amalfi Coast. Just the mention of this seaside location evokes dreamy visions of sun-kissed beaches with rows of lettini (beach chairs) and ombrelloni (big umbrellas), and folks wearing white linen clothes and big black sunglasses while sipping a Campari cocktail on the terrazzo of their hotel perched high above the sunbathers. It's hard to imagine a more delicious scene.
In fact, the food in this part of Italy is equally delicious—generally on the lighter side with an emphasis on seafood ingredients. But certainly part of the pleasure of eating on the Amalfi Coast is the setting itself.  Somehow even a simple pizza tastes better when you're gazing upon the blue waters of the bay.
A Guide to Italy's Best Restaurants
Claiming to know the best restaurants in Italy is presumptuous, I realize. I adore the regional cuisines throughout the country, and I've certainly tasted more than my fair share. And while I know a lot about nutrition, I don't claim to be a chef, gourmet, buongustaio, or foodie.  
Fortunately I have a few friends that are, and they know quite a bit about the best restaurants in Italy and I'm not afraid to exploit their knowledge for the purposes of promoting my blog. (I'm kidding, they've all offered to contribute voluntarily, for which I'm both perplexed and extremely grateful.)
Get the FREE Guide to the Best Restaurants in Italy!
Top food bloggers living in Italy share their suggestions for the best places to enjoy authentic cuisine while vacationing in Italy. 
Seriously folks, you will not encounter a more genuine or authoritative group of food writers than the all-star roster that I've duped into contributing to this effort. How did I come to discover these folks? Well, I was searching for restaurant information myself—both online and on the ground—and these names kept reappearing. Eventually I found their websites, bought their apps, and followed them on Facebook and Twitter.  
That's when it occurred to me to create this little book, as a way of introducing them to my readers and to anybody who wants to increase their knowledge of Italian food culture, and make sure that their next visit to Italy includes some memorable dining experiences. 
Now, my little guide is only a "taste," mind you. If you want the full meal, then I suggest that you visit their sites individually for yourselves. They are all involved in every aspect of food appreciation, from shopping at the markets, to leading food tours, to conducting cooking classes; these people are the experts with experience.
Conclusion: Just a Taste of Italy's Best Restaurants
In Italy, the food says a lot. Beyond the obvious pleasures, it speaks of a place
of its history and of its people. You can learn a great deal about a given city or region by understanding the food traditions that are part of the cultural heritage. Don't assume that it's "just food." No, it's more than that. It's part of the family.
Of course, any guide to "the best restaurants in Italy" is always subjective, even when the opinions come from these known experts. Instead, let's call these some favorite places of these well-established chefs and food writers. Their choices of favorite places are based on their personal assessments as well as the feedback they've received from others: the students in their classes, the clients taking their food tours, and the commenters on their blogs. 
I hope that you have found this whirlwind tour of Italy's best foodie destinations both informative and enjoyable. When planning your trip, you'd be well advised to contact these knowledgeable folks in advance to book a tasting tour or a cooking class. 
So what are you waiting for? Download the eBook now and keep this guide handy on your next visit to Italy.  (If you're already in Italy, better still!)
BUT—if you really want a taste of the real Italy, contact these talented foodies directly for the full immersion experience. Buon appetito!
Get the FREE Guide to the Best Restaurants in Italy!
Top food bloggers living in Italy share their suggestions for the best places to enjoy authentic cuisine while vacationing in Italy. 
Best Restaurants in Italy – FAQs
Which Italian city has the best food?
If you ask an Italian, "Which city in Italy OTHER THAN YOUR OWN has the best food, the majority will answer Bologna. They don't call it "La grassa" (the fat one) for nothing!
What is the best restaurant in all of Italy?
Obviously this is very subjective, but according to the so-called "experts," the winner would likely be a place called Osteria Francescana in Modena, Emilia Romagna. The chef, Massimo Bottura, has achieved three-Michelin-stars.