Italy produces the second most wine in the world by volume, behind France. However, there is a vast amount of wines that are created, they are all different.
There are around 20 different regions in Italy that all produce wines. Regional Italian foods and wines evolved side by side over many generations, and therefore always compliment each other very well.
However, due to the massive amount of wines out there, it can be daunting for a beginner to understand the many different varietals and wine growing regions. In this article, we will give you a thorough overview on Italian wines explained. 
Italian Wines Explained
In Italy, the wines made are created using various types of grapes, both native to the Italian region and those imported from other countries, like France, such as Cabernet Sauvignon and Chardonnay.
Some grapes like Fiano, Teroldego, Nero d'Avola and Sagrantino are all native to Italy. These grapes will produce a much more Italian flavor and pair well with the local cuisine. 
However, the wine will differ due to the regions of Italy they are produced in due differences in climate, soil, and other natural conditions.
Also know that Italians believe that wine is good for you, if it's from a reputable vineyard and consumed in moderation with your meal.
Listen to the Podcast Episode…
Regions Of Italian Wines
During the  past 3 decades, Italy has really stepped up their wine production, so that they produce much more variety. They now don't just stick to classic red or white wines.
All the wines that are created in Italy are regulated using the DOC (Denominazioni di Origine Controllata) e DOCG (Denominazioni di Origine Controllata e Garantita) classifications.
The classifications help to determine the designation of the wine, so that they are spent to places where they will be brought. Alongside that, it will ensure that the wines produced are of the highest standard. 
Northern Wines
The northern parts of Italy are on the borders of the Alps. This means the climate can vary quite dramatically. They are influenced by French traditions and made using Nebbiolo grapes.
The most famous wines found from the northwest of the region are Barbaresco and Barolo. Towards the east of the northern region, you will find Pinot Grigio and Amarone being produced. 
When it comes to white wines in this region, Trentio, Veneto and Alto Adige are the grapes most commonly used to create Pinot Grigio.
In addition to this, in Lombardy and Trentino you will find some of Italy's best sparkling wines using Chardonnay and Pinot Noir grapes. 
Central Wines 
In the center of Italy, the cuisine that is produced is very similar to American cuisine. It is full of meat sauces, pasta dishes and a lot of well known cheeses. This region has a really diverse landscape.
Tuscany is one of the most popular places of wine in central Italy. Some of these popular wines that are produced in this region include:
Bolgheri,
Vino Nobile di Montepulciano,
Chianti Classico,
White San Gimignano,
Red Maremma,
Brunello di Montalcino.
In addition to this, there are a lot of wines in Tuscany that are mixed with other varieties. Some of the other most well known wines produced in this region are the Montepulciano, Verdicchio, and Sagrantino.
When it comes to wines from central Italy, they are seen as robust wines. Often they can withstand and complement flavorful Italian dishes and cuisines. 
Southern Wines And The Islands
In the southern regions of Italy and the nearby islands produce wines that have a much brighter flavor compared to northern produced wines.
The wines produced in these regions are amplified due to the volcanic soil. This soil also helps to produce some of Italy's best fruits as well, including oranges, figs, lemons and peaches. 
The southern areas and islands experience the warmth that comes off the Mediterranean Sea. Hence, the wines of these areas match the flavor.
With wines like Greco di Tufo and Fiano, that are loved for their mineral notes that are due to the soil of the area. 
The grapes that are commonly used in this region are the Negroamaro and Primitivo. When it comes to the nearby islands of Italy, Sicily is the most popular.
In Sicily, the wines produced are using grapes native to the island. Common wines include Grillo, Nero d'Avola and Passito di Pantelleria. 
History Of Winemaking In Italy
It is believed that viticulture was introduced into the south of Italy and Sicily due to the Mycenaeans. Yet, it is known that winemaking was already established before the first Greek colonists arrived in Italy during 800 BC.  
For a while, viticulture outside Italy was banned, thanks to the Romans. However, over time the viticulture laws began to relax, and more vineyards began to establish themselves all over Europe.
The first official Italian system of the classification of wines was created in 1963. Since then, there have been several additions and modifications to the rules.
The most major modification took place in 1992, and the last addition happened in 2010. This legislation creates the 4 categories of wine that is also consistent with the latest European wine regulations. But this doesn't always guarantee quality. In fact, some of the best wineries in Italy produce only "IGT" wines.
 Today, Italy is the second-largest wine producing country in the world, just behind France. 
Pairing Wines With Food
In a lot of restaurants, you may be offered a wine list. Yet, it can be difficult to pick through all the wines to find one that will match your food. This is because not every wine will match the food that you pair it with.
It is important to match your wine with similar textures and flavors. You also want to make sure that the intensity of the wine adds to the dish, but also doesn't overpower it, either.
You want to match the wine that you choose to have a similar texture and richness with the food. In addition to that, you want to make sure that all the flavors balance out.
For example, sour and salty dishes will make the wine that you choose taste much less acidic and fruitier. While savory or sweet dishes will make your wine taste a lot stronger. Thus, it will have a much drier texture. 
Light, Medium And Full Bodied Wines
When you are cooking, a light wine such as Soave or Pinot Grigio is more suited to poached, steamed or sautéed fishes.
While a medium or full-bodied wine, such as Barolo, Montepulciano d'Abruzzo or Brunello, are more suited with baked, grilled or roasted dishes. Especially dishes that have a rich and deep flavor. 
If you have a salty dish, then a wine from the Piedmont region such as Barbera will work really well. 
Poultry Dishes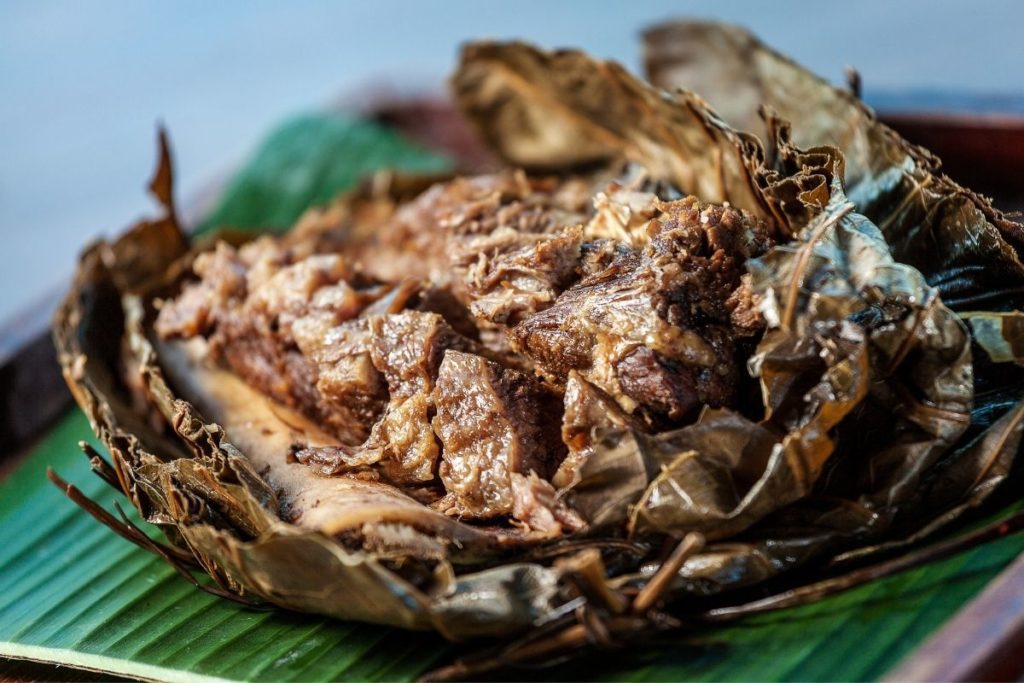 When it comes to poultry dishes such as squab, quail, duck or turkey, they all have a very earthy flavor. These flavors are much stronger than your typical chicken.
As a result, you need to pair game birds with a wine that can help compliment these rich flavors. You also want a wine that will pick up with the earthy flavors. 
An Ararone is a great choice to help enhance the game-like flavors. 
Seafood And Fish Dishes
There is a belief that seafood or fish should only be matched with a white wine. However, this is not the case.
A Chianti or Chardonnay are great choices, as the smooth acidity of the wine herpes to cut through seafood risotto, or grilled fish easily. 
However, as we said, you don't have to stick with white wine when it comes to fish or seafood. Experiment with different types of wines and find flavors that work well with the fish and don't overpower the delicate fish or seafood. 
It is known that oysters work really well with a sparkling wine like a Prosecco, Asti or Lambrusco.
Due to the salty sea that the fish come from in Italy, the sparkling wine makes a great combination and adds another layer of freshness to the meal. 
And of course, in Italy, wine and pasta pairings have many possibilities.
Italy Is The Birthplace Of Prosecco
Over the past few years, the popularity of Prosecco has grown vastly in numbers. It has become a favorite for a lot of people as it is a lot cheaper than Champagne for special events or just to be enjoyed with a good meal. 
It is believed that around 150 million bottles of Italian Prosecco are produced every year, and are very sought after during the warmer months, such as summer.
However, where Champagne and Prosecco differ, is the fact that Prosecco doesn't need to be aged. Generally, a bottle of prosecco is aged for a maximum of 3 to 7 years.
Aging Your Italian Wines
You will hear a lot of people talking about how old their wine is. This is because the longer you leave your wine and let it age, the wine itself evolves and begins to taste better.
By holding onto a wine, the taste, aroma and texture of the wine will be completely different when you open it compared to when it was bottled. 
Collectors are known to pay serious amounts of money at auction when it comes to rare wines that have been aged for many decades. With that being said, not all wines do need to be aged at all.
The general rule of thumb is that white wines should be consumed within 2 to 3 years after bottling. This is because the fruity nature of the wines will begin to fade over time.
However, there are some exceptions to this rule. A full-bodied wine like a Chardonnay can be kept for 3 to 5 years. While a Roussanne can be kept for between 3 and 7 years. 
On the other end of the spectrum, you have red wines. When it comes to a full-bodied red wine, they are full of tannins. This means they benefit from being aged for a long period of time.
For example, the Italian Barolo is known to mature and reach its maturity after 10 years. This is due to the tannins in the wine, that will mellow out as they get older. This then makes the red wine a lot more enjoyable and pleasurable to drink.
However, just like white wines, you don't need to age all your red wines. Nero d'Avola is a red wine that doesn't need to be aged for very long.
This is because it already has a good acid nature and a sour cherry floor when young. Therefore, the longer you leave this red wine, the crispy cherry flavor will begin to fade. 
Storing Your Italian Wine
With all of this being said, once you know how long to age your Italian wine, you need to make sure that you store it properly. A lot of traditional Italian wine bottles will have a cork closure, as it is better for aging purposes.
It allows a minimal amount of oxygen through every so often, which helps the wine to mature slowly.  While wines that have a screw cap, you will find, are often wines that don't need to be aged and can be drunk at a younger age. 
Ideally, your wine should be kept in a dark place with little vibrations at a constant temperature between 55 and 60 degrees Fahrenheit.
Often when it comes to aging any wine, they are aged in a cellar as they will have the right constant temperature and humidity all year. Thus, you don't have to worry about any temperature fluxes that could tamper and affect your wine. 
Final Thoughts
Italy is known for its wines, and it is the second-largest wine producer in the world. There are around 29 different regions within Italy that produce wine.
They all use grapes that are native to that area, which helps Italy create such a vast amount of wines that all vary in taste, textures and aromas. 
Certain wines are more suited to particular dishes or cuisines. While you also need to be aware that some wines such as a full boxed red wine needs to be aged for a period before it is opened and drunk.
We hope you have enjoyed this article, and have given you a better understanding of Italian wine.